Find yourself dabbling in activities that don't really grow your Network Marketing Business? Pair down to the Non-Negotiable items and Execute for Success…
#1 Non-negotiable:  You must define what Success means to you.
The idea of success can mean something completely different from one person to the next.  For me, the idea of success is to be able to take my family on a vacation and not have to worry about my job, expenses (falling under the red line), and the time spent with my family.  The idea of creating memories for a lifetime has so much meaning for me.
When I can replace my income and be free from a 40/40 job where I'm working for someone else, to me that would be considered success!
#2 Non-negotiable:  Listen to Your Intuition
This one is tough, You will have self-doubt.  You will sense that maybe you are going down the wrong path.  You will have setbacks that make you think about quitting.
Once you decide you want the freedom lifestyle or you've had the taste of the creative lifestyle, you won't want to go back.  Stay focused on developing YOU, the skills, or pieces that you need to grow your business.  Don't let the little voices in your head hold you back from plunging forward.
You've heard mother's instinct right? If you sense that you need to move in a certain direction, do it.  We didn't goto University and Major in Motherhood before we had children.  We had faith that we could be mothers.  Trial and Error.  We try and try… and the keep trying.  We fail and we have successes.  When our babies cry for what feels like days on end, we don't quit being their mother.  It's a season and it passes.  We learn and move on.  We then have more babies and we become experienced in this phase.
This is all the SAME process in a Network Marketing.  We have to treat our business like one of our babies.  When our business is crying, we don't quit and give up, we try and try again.  We never give up on it.  We need to think to nurture it until it becomes mature.
#3 Non-negotiable:  Do Your Research
What is your marketing plan?  Every Network Marketer needs a marketing plan.  Don't think that you can get away with just your intuition.  Use your intuition to put a simple framework in place.  Research the following just to start.
What's your market?
How will you reach them?
What is your Brand?
How will you Launch?
How will you get your message to market?
What do you need to get to your Goal?
Do you have the skills to do this?
Am I going to get the training that I need?
Grab the 5 Essential Tips right now.  It may be the only thing that you know to get you on the right path to success.
#4 Non-negotiable:  Be a Professional Student
I failed the first year in my Network Marketing Business.  I thought I could run a business with the little knowledge that I had.  The inexperienced mind, thought the <200 audience that I had on facebook was enough to grow a business to replace my current income.  I thought I wouldn't need to develop any technical skills.
I understood I didn't have the foundation laid in place.  I had neglected to get the knowledge, the marketing, the skills to take my business to the next level.  I quickly fell, face in the mud, when things got tough.
Find out what you need for your particular business.
If you need skill training, go seek it out. 
If you need mindset training, get books (here is my recommended list) or podcasts.
If you want to become a coach, get some coaching!!

 #5 Non-negotiable: Know YOURSELF, And know YOU well
Think about hosting an online course or run some webinars if you like to teach.
Extend your personal voice on your blog, write an e-book, or put your work out there on social media if you like to write.
Learn to prospect effectively and speak to as many people as you can OR start a podcast to speak to many if you like to talk!
If you don't know you lane yet, that's ok, figure it out as you go.  Just Go For IT.  I promise you, nobody gets it right the first time, and you will learn along the way.
Extreme Introvert here and it was against my personality and will to do Facebook Live.
I couldn't even post a selfie of myself when I started out with <200 people on Facebook.  For me personally, I saw the value in getting my message out there and helping others do the same.  It was that drive that I decided to put my own pride aside and hit that Facebook Live button.  I didn't know that I had it inside me all this time.  Release that inner lion in you!
You will be equipped for Network Marketing Success when you have had the self-discovery journey.  As in it's name 'network' you need to be clear what you're passion is, your story, how you can bring value and help others.
5 Non-Negotiables for Network Marketing Success
Check out my other videos like this by Subscribing on my YOUTUBE Channel right here.  Get the latest vlogs at your finger tips.
Now go out there and Take Massive Action,
Your Biggest Fan,
P.S.
How can I help you?  Connect with me @elainemichaelspage
P.P.S.
Did you like this blogpost?  Be sure to comment and share!  Sharing is caring!  Here are some other articles that might interest you…
How to Find the Structure in Your Business in the Midst of All the Chaos
Why Consistency is so Important in Business and in Life
How to Become the Leader in YOUR Online Space
The Top 4 Digital Tools Online Marketers Need to be TOP NOTCH
THE TOP EARNER FRAMEWORK?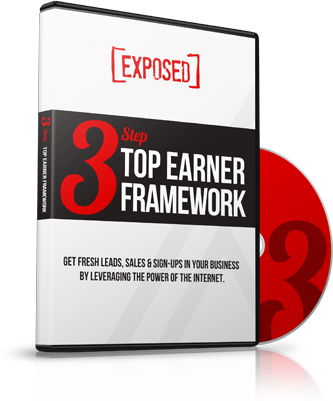 FINALLY Unlock the 3-Step Framework and Learn How to Get Fresh Leads, Sales & Sign-Ups in YOUR Business Leveraging the Power of the Internet.